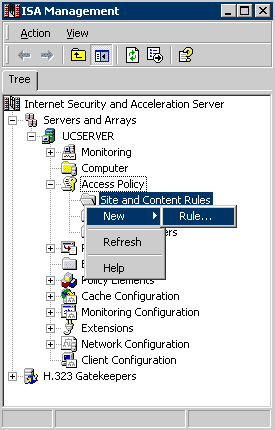 Screenshot 30   The GFI WebMonitor web filter listed under Add ins in ISA Server 2004 
A list of plug in web filters will be displayed in the Web filters page in 
the right pane.  
Creating ISA Server access policy rules 
Creating an Access Rule policy on ISA Server 2000 
1. Launch ISA Server 2000 Management console.  
Screenshot 31   ISA Server 2000: Access Policy node 
2. Expand the Access Policy node.  
3. Right click on the Site and Content Rules 
 New  
 Rule This will 
bring up the New Site and Content Rule Wizard.  
4. Give the rule the name " Block Adult Sites   Based on URLs in 
Adult Destination Set". Click on Next to continue.  
5. In the Rule Action page, set the permission to `Deny' and click on 
Next to continue. 
6. In the Rule configuration page, select the option "Deny access 
based on destination". Click on Next to continue.  
42 
 Common ISA Server Setup Tasks 
GFI WebMonitor 3