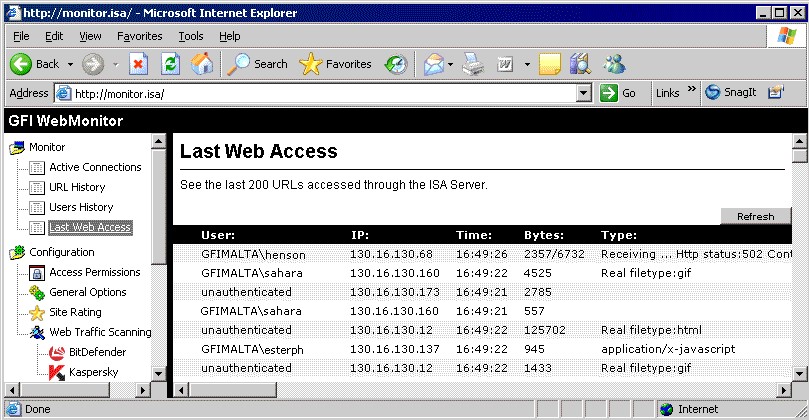 Screenshot 27   User History detailed information view 
This detailed information includes: 
  The complete list of all URLs accessed by the selected user (or 
from the selected computer). 
  A graphical representation of the user's web browsing time 
distribution.  
From this graphical representation you can extract the following 
information: 
  The time slice(s) during which each user makes most use of the 
provided Internet connection. 
  The number of hours that each user is spending on Internet 
browsing.  
  The period during which your web traffic is at its peak.  
Through this information you can quickly identify users which abuse of 
their Internet privilege. This helps you plan adequate Internet 
restriction policies and improve your bandwidth management. To view 
detailed information on the user's Internet activity, click on the 
respective username/IP. 
To reset the data collected by GFI WebMonitor click on the Reset 
Data button at the top of the Users History view. Deleted data cannot 
be recovered/undone! 
NOTE: The information displayed is not automatically refreshed. Click 
on the Refresh button in the upper right of the view to update the 
information being shown.  
Last Web Access 
Screenshot 28   Last Web Access view 
The  `Last Web Access'  view shows the last 200 URLs accessed 
through your ISA Server. The information shown in this sub node is 
sorted (in descending order) according to the time that the URL was 
accessed (most recent listed on top) and includes: 
  The name of the authenticated user that accessed the URL. 
  The IP address of the computer from where the URL was 
accessed. 
GFI WebMonitor 3 
Monitoring Internet activity 
 39