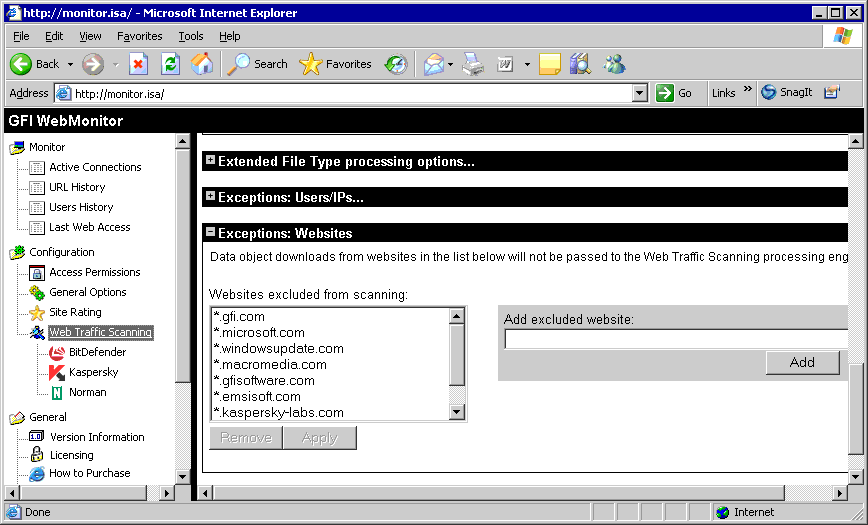 Excluding websites from Web Traffic processing 
Screenshot 19   Site Rating node: Websites excluded from Site Rating 
You can configure GFI WebMonitor to block data objects downloaded 
from specific sites to the Web Traffic Scanning processing engine. 
This means that the data objects downloaded by users from the listed 
websites will not be run against the Web Traffic Scanning action 
parameters.   
To configure website exceptions:  
1. Click on the Configuration 
 Web Scanning Traffic node.  
2. Go to the  Exceptions: Websites  section. 
3. Specify the URL of the website that will be excluded from the Web 
Traffic Scanning process and click on the Add button.   
4. Click on the Apply button to save your configuration settings. 
Updating Anti virus Definition Files 
New malware in the form of viruses, worms, spyware, Trojans and 
adware are released hourly. To stop new malware from spreading and 
penetrating into your network you need to ensure that the anti virus 
definition files are up to date with the latest definition files released by 
the respective vendors.  
GFI WebMonitor periodically checks and downloads new anti virus 
definition files made available for the supported virus scanning 
engine(s).  
32 
 Web Traffic Scanning 
GFI WebMonitor 3