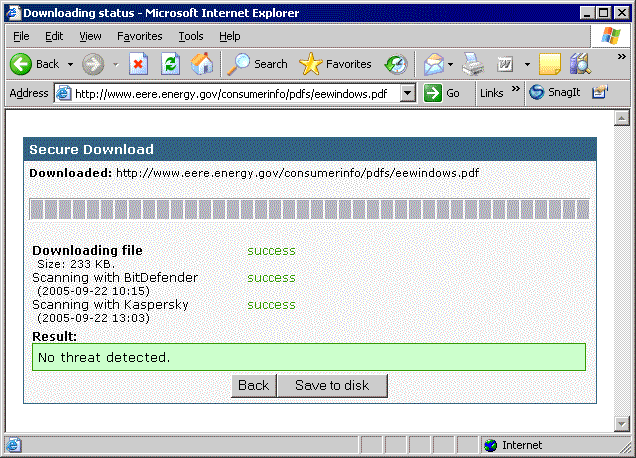 AV Scan (Show Progress to User)   files which match the 
indicated Content Type will be downloaded and scanned for viruses. 
The user will be informed that GFI WebMonitor is processing this file 
prior to passing it on. 
Screenshot 17   AV Scan (Show Progress to User) real time download feedback in status 
window 
4. Click on the Apply button to save your configuration settings. 
NOTE 1: When using the action option  Scan (Show Progress to 
User)  GFI WebMonitor will show in real time on the client web 
browser, the status of the download in progress on a web page 
equivalent of the download status. When the download completes, 
client users can save  the downloaded object to disk by using the 
 Save to disk  button on the download web page. This process 
requires the manual intervention of the user in order to save the 
downloaded object.  
NOTE 2: The action option  Scan (Show Progress to User)  can 
interfere with auto update sites like windows update. Be sure to add 
the site which is being contacted for auto updates to the Exclusion list 
(described further on in this chapter).  
Configuring new filetypes to be scanned/blocked 
GFI WebMonitor ships with the capability to detect a set of data object 
types. To configure Web Traffic Scanning action support for objects 
whose HTTP Content Types are advertised in the HTTP code:  
To configure the Web Traffic Scanning action for the listed filetypes: 
1. Click on the Configuration 
 Web Traffic Scanning node.  
2. Go to the  Extended File Type processing options  section. 
3. Specify the HTTP Content Type of the object to process.  
4. Specify the action to take when GFI WebMonitor meets data 
objects of same filetype.  
30 
 Web Traffic Scanning 
GFI WebMonitor 3