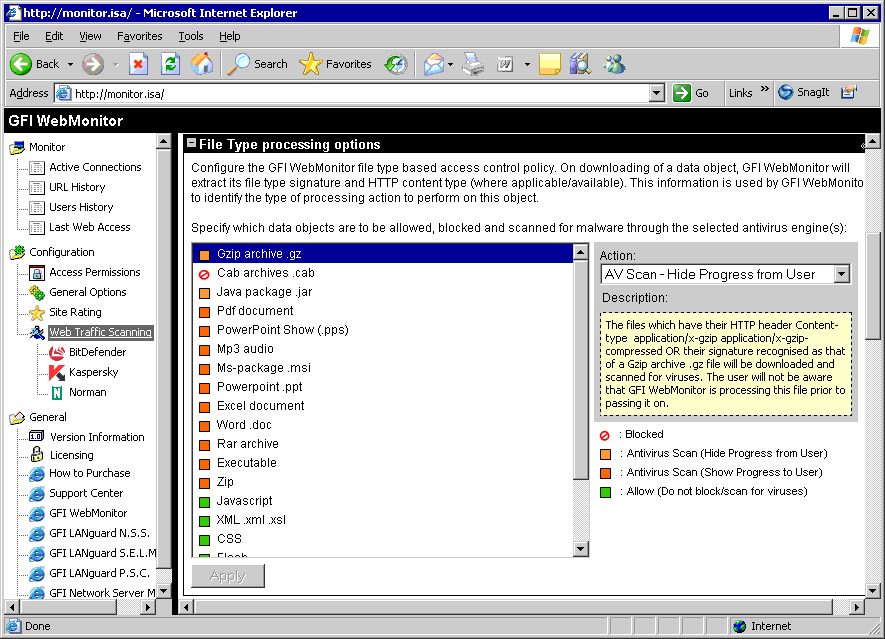 NOTE 2: All paid versions of GFI WebMonitor are shipped with a one 
year anti virus update license.  
Configuring supported filetypes to be scanned/blocked 
Web Traffic Scanning works on the data objects which are being 
downloaded. When content is downloaded, GFI WebMonitor will both 
extract the advertised Content Type (when applicable/available) as 
well as determine the real filetype of the downloaded object. Using this 
information, GFI WebMonitor will check the Web Traffic Scanning 
processing engine configuration to see how to process the object.  
GFI WebMonitor ships with the capability to detect a number of 
filetypes. For every filetype, you can configure what type of action GFI 
WebMonitor is to take when processing a downloaded object which 
matches the indicated filetype.  
Screenshot 16   Configuring filetypes to scan / block 
To configure the Web Traffic Scanning action for the listed filetypes: 
1. Click on the Configuration 
 Web Traffic Scanning node.  
2. Go to the  File Type processing options  section. 
3. From the list of filetypes supported, click on the filetype to configure. 
From the action combo box, specify the way which GFI WebMonitor is 
to act on downloaded objects with the indicated filetype. For every 
object type the following actions are supported:  
 Block   block all objects that match the indicated filetype. 
 Allow (Do not block/scan for viruses)   do not block or scan 
downloaded objects that match the indicated filetype.  
 AV Scan (Hide Progress from User)   files which match the 
indicated Content Type will be downloaded and scanned for viruses. 
The user will not be aware that GFI WebMonitor is processing this file 
prior to passing it on. 
GFI WebMonitor 3 
Web Traffic Scanning 
 29