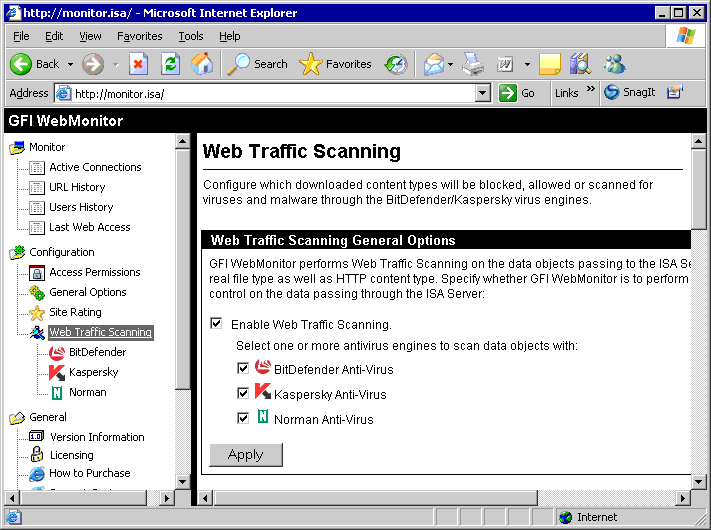 Configuration of which data objects are to be allowed,  blocked 
and scanned for malware through the selected anti virus 
engine(s).  
  Configuration of user exceptions: data objects downloaded by 
these users will not be passed through the Web Traffic Scanning 
processing engine.  
  Configuration of website exceptions: data objects downloaded 
from these sites will not be allowed through the Web Traffic 
Scanning processing engine.  
Enable/Disable Web Traffic Scanning  
Screenshot 15   Virus Scanning Engines node: Engine options 
To enable Web Traffic Scanning:  
1. Click on the Configuration 
 Web Traffic Scanning node.  
2. Go to the  Web Traffic Scanning General Options  section. 
3. Select the  Enable Web Traffic Scanning  option. 
4. Select one or more anti virus engine(s) to scan data objects for 
malware. The anti virus engines supported include:   
 Kaspersky 
 BitDefender 
 Norman. 
5. Click on the Apply button to save your configuration settings. 
NOTE 1: During evaluation, all supported anti virus engines can be 
configured and used. On evaluation expiration you will need to 
purchase a license key which will enable one or more of the anti virus 
scanning engines to continue using the Web Traffic Scanning feature 
of GFI WebMonitor.  
28 
 Web Traffic Scanning 
GFI WebMonitor 3