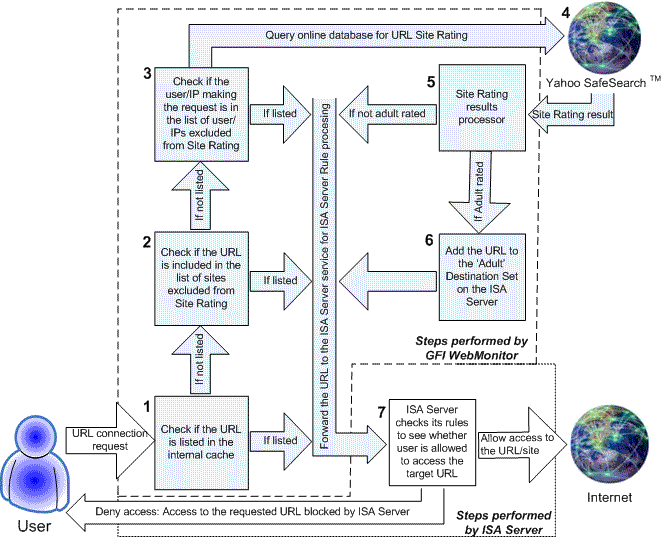 Site Rating 
Introduction 
Use GFI WebMonitor Site Rating feature together with the ISA Server 
web access blocking capabilities, to achieve automatic proactive 
blocking of sites which contain objectionable adult material such as 
pornographic images, candid scenes, offensive words and links to 
adult sites.  
Figure 4   Site Rating process flow 
GFI WebMonitor can check for adult content in the URLs which users 
want to access. This is achieved by querying Yahoo! SafeSearch
TM
which is an online database that classifies and categorizes various 
sites on the Internet. When a user requests access to a site, GFI 
WebMonitor will query the Yahoo! SafeSearch
TM
 database for the 
Content Type held by that target URL. If the online web filter classifies 
the site as having adult content, GFI WebMonitor will add the target 
URL to the  Adult  Destination Set on the ISA Server. If the ISA Server 
is configured to block access to the sites listed in the  Adult  
Destination/URL Set the user will be denied access to that site.  
NOTE 1: GFI WebMonitor will retain the classification of the last 3000 
sites accessed. Every time a request to a target site is made, GFI 
WebMonitor will check if the requested URL is listed in its internal 
GFI WebMonitor 3 
Site Rating 
 23