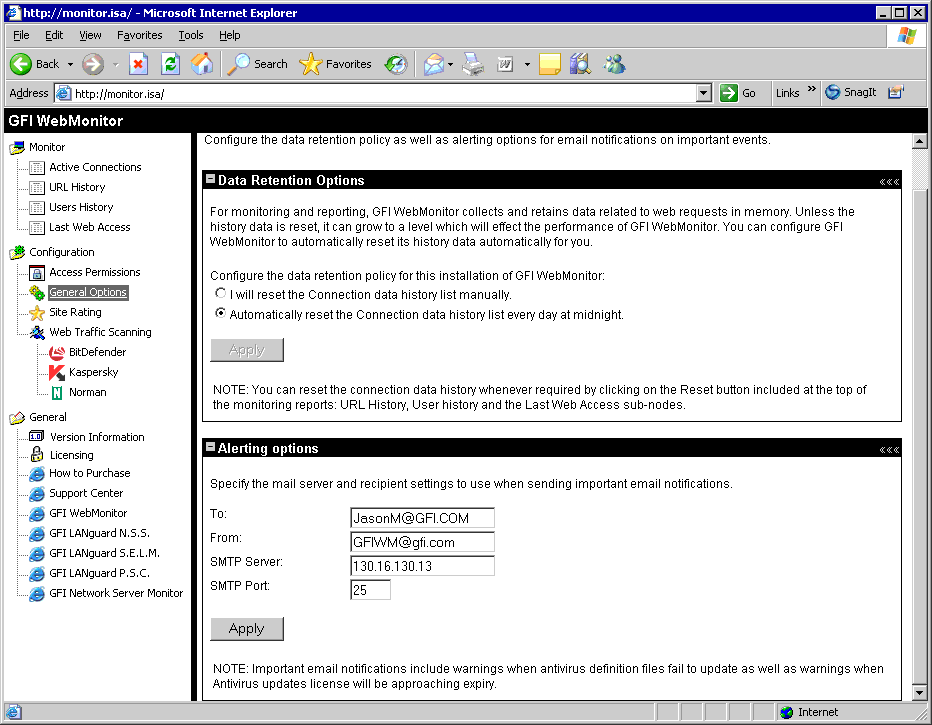 General options 
Use the General options node to configure:  
  The retention period of the collected (Internet activity) data.  
  The email alerting options.  
Data Retention Options 
Screenshot 10   General options page 
For monitoring and reporting, GFI WebMonitor collects and retains 
data related to web requests in memory. Unless the history data is 
reset, it can grow to a level which will affect the performance of GFI 
WebMonitor.  
In GFI WebMonitor, you can reset the collected data in two ways: 
  Automatically: GFI WebMonitor will automatically reset the 
collected data daily at midnight. 
  Manually: You must reset the collected data by pressing a reset 
data button from GFI WebMonitor interface. You can reset the 
Internet activity data history whenever required by clicking on the 
Reset button included at the top of the monitoring reports 
accessible through the `Monitor' node: (i.e., Monitor 
 URL History, 
Monitor 
 User History and the Monitor 
 Last Web Access nodes).  
To configure the data retention policy of GFI WebMonitor: 
1. Click on the Configuration 
 General Options node.  
2. Go to the  Data Retention Options  section.  
3. Select one of the following options:  
  I will reset the Connection data history list manually   Select 
this option to manually reset the history data cache. 
GFI WebMonitor 3 
Configuring GFI WebMonitor 
 19