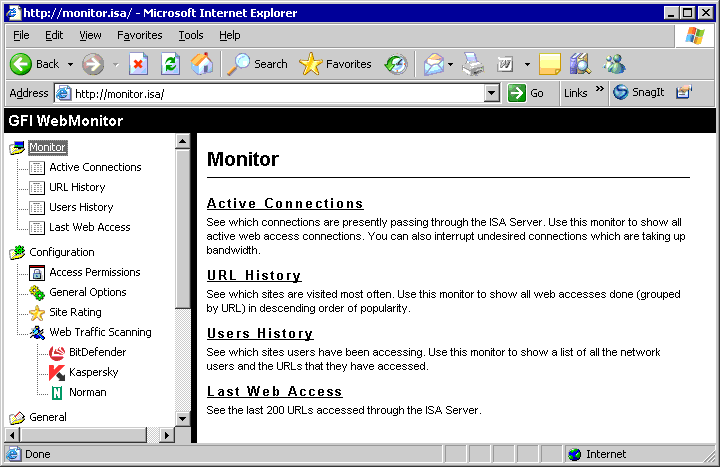 Accessing GFI WebMonitor 
Introduction 
Use GFI WebMonitor web based interface for configuration and 
monitoring. The GFI WebMonitor interface can be launched in two 
ways: 
  On the ISA Server on which GFI WebMonitor is installed by 
clicking on: Start 
 Programs 
 GFI WebMonitor 
 GFI 
WebMonitor.  
  Remotely over the network using Internet Explorer. Launch 
Internet Explorer by clicking on Start 
 Run and typing in  
iexplore.exe
. Then go to the following URL:  
http://monitor.isa/
NOTE: On a default installation only the administrator on the ISA 
Server machine will be allowed access to GFI WebMonitor. 
Screenshot 5   GFI WebMonitor configuration interface 
Troubleshooting GFI WebMonitor access troubles 
If you have trouble accessing GFI WebMonitor web interface chances 
are you are experiencing one of the following:  
1. Your Internet Explorer settings are not using the ISA Server as its 
proxy server.  
2. You are trying to access GFI WebMonitor from a computer which 
has not been given the necessary access permissions to GFI 
WebMonitor.  
GFI WebMonitor 3 
Accessing GFI WebMonitor 
 13