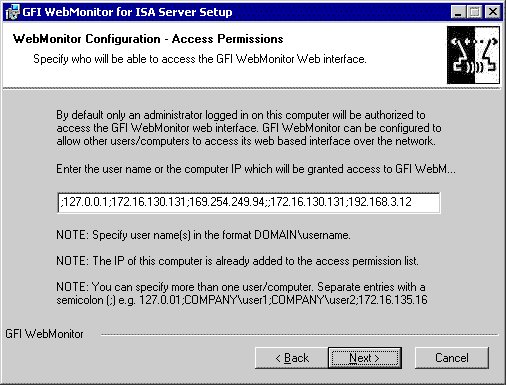 Screenshot 1   Configuring access at installation 
6. Specify the username(s) or IP address of the computer(s) that will 
be allowed to use and configure GFI WebMonitor. You can specify 
multiple IPs or usernames by separating them with ";" (e.g., 
209.217.53.213;66.172.16.32;JasonM.) 
NOTE 1: Only the IPs/Users specified in this dialog will have access 
(locally or remotely) to GFI WebMonitor interface.  
NOTE 2: After installation you can configure GFI WebMonitor to 
authorize other users to access GFI WebMonitor interface from the 
Configuration 
 Access Permissions node. For more information on 
how to configure user access permissions, refer to the `Accessing GFI 
WebMonitor' chapter.  
NOTE 3: By default only the administrator on the ISA Server machine 
will have access to GFI WebMonitor configuration.  
8 
 Installing GFI WebMonitor 
GFI WebMonitor 3