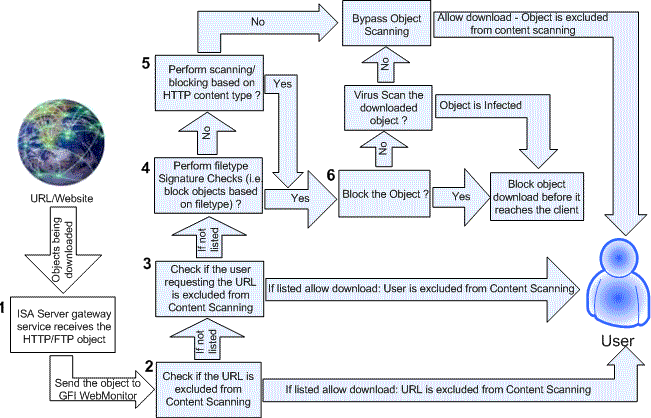 opening holes in your network through the installation of unwanted 
software and ActiveX controls which frequently accompany visited 
adult sites.  
  Less bandwidth is consumed on non work related browsing.  
  Less demand for local storage space   Less physical storage 
space is required locally to host a detailed and up to date content 
filter database which is continuously increasing in size. GFI 
WebMonitor will store only the blocked URLs which were 
requested by the company's internal users; as opposed to the 
Yahoo! SafeSearch
TM
 filter database which includes the URLs of 
all sites that were accessed by a multitude of users around the 
world. 
Web Traffic Scanning 
Figure 3   Web Traffic Scanning 
GFI WebMonitor can optionally perform Web Traffic Scanning. During 
Web Traffic Scanning, downloaded objects are checked for viruses, 
spyware and Trojans using the supported virus scanning engines. The 
paid version of GFI WebMonitor comes enabled with Norman and 
BitDefender free for the first year. Kaspersky can be added on for an 
additional charge. During Web Traffic Scanning, the virus scanner(s) 
inspect all HTTP and FTP (only FTP passing via HTTP proxy server) 
traffic going through the monitored ISA Server. Web Traffic Scanning 
blocks all infected files before reaching the client.  
Dangerous files (filetypes) such as Trojan downloader programs often 
attempt to penetrate a system masked as innocuous files. During Web 
Traffic Scanning, GFI WebMonitor uses its built in file signature 
scanner to analyze the signatures of HTTP/FTP files. Filetype 
signatures are bytes which define the true type and content of a file. 
GFI WebMonitor will immediately block dangerous filetypes before 
reaching the client. 
For more information on filetype signatures visit: 
http://www.garykessler.net/library/file_sigs.html
. 
6 
 Introduction 
GFI WebMonitor 3