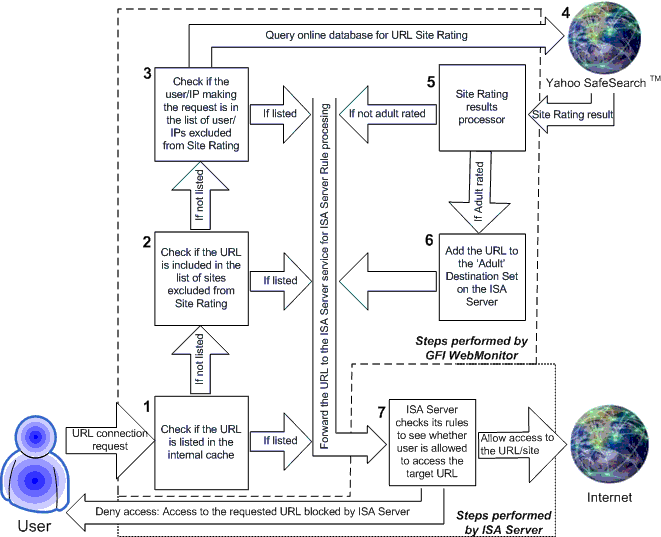 Proactive content filtering and Access Control 
Figure 2   Site Rating process flow 
GFI WebMonitor can check for adult content in the URLs which users 
want to access. This is achieved by querying Yahoo! SafeSearch
TM
which is an online database that classifies and categorizes various 
sites on the Internet. When a user requests access to a site, GFI 
WebMonitor will query the Yahoo! SafeSearch
TM
 database for the 
Content Type held by that target URL. If the online web filter classifies 
the site as having adult content, GFI WebMonitor will add the target 
URL to the  Adult  Destination Set on the ISA Server. If the ISA Server 
is configured to block access to the sites listed in the  Adult  
Destination/URL Set the user will be denied access to that site.  
The benefits of a web based content filter 
It is estimated that three to five million websites are newly established 
or renamed each week. This means that administrators strive to 
maintain their local content filter databases updated. Missing one 
update might jeopardize the accuracy of a content filtering system. 
GFI WebMonitor performs content filtering through a web based filter 
and does not require a locally maintained filter database. All the 
required filter data is stored on the remote online database which is 
constantly maintained and updated by third party content classification 
professionals. The benefits of using a web based content filter include: 
  Automatically updated and maintained URL block list.  
  No local updates required   This reduces administrative loads by 
eliminating bothersome list updating procedures and research.  
  Adult sites are notoriously known for being accompanied by 
unwanted spyware/Trojan installations. Through an automatically 
managed adult site list you reduce the chances of your users 
GFI WebMonitor 3 
Introduction 
 5