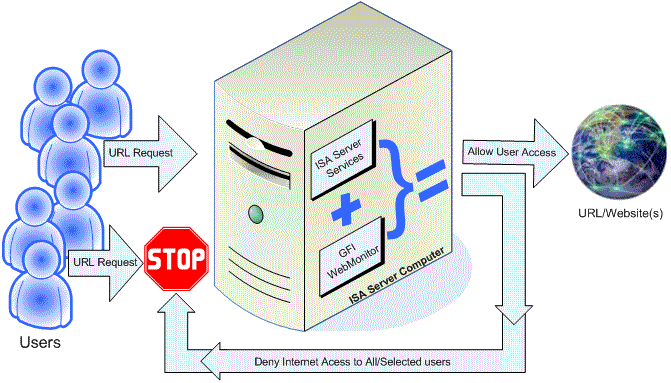 Introduction 
What is GFI WebMonitor for ISA Server? 
Figure 1   GFI WebMonitor complements the protection already provided by the ISA Server 
GFI WebMonitor is a lightweight monitoring tool, designed as a plug in 
for Microsoft ISA Server. It allows you to monitor the sites users are 
browsing and the files they are downloading   in REAL TIME. It also 
allows you to block web connections in progress as well as to scan 
traffic (i.e., downloaded objects) for viruses, Trojans and spyware. 
GFI WebMonitor is the perfect solution to transparently exercise a 
degree of control over users' browsing habits and to ensure legal 
compliance   in a manner that will not alienate your network users. 
Features 
  Monitors web and FTP browsing in real time. 
  Allows administrators to block web access or downloads in 
progress. 
  Active Connection view shows all current web connections. 
  URL History view shows all visited websites. 
  User History view shows all sites visited by each user. 
  All views show the number of bytes transferred (sent/received). 
  Native integration with ISA Server as a web filter. 
  Web based interface allows viewing from anywhere in the network. 
  Supports Microsoft ISA Server 2000/2004 (both Standard and 
Enterprise Editions). 
  Easy installation, minimal configuration required. 
GFI WebMonitor 3 
Introduction 
 3